Security
now browsing by tag
Heading off for a well-earned vacation with the family is always a fun and exciting time as you look forward to a trip that has been many weeks or months in the planning.
Amongst all the things that you have to remember to do in preparation for your trip, make sure that you set aside a little bit of time to make sure that you pack what you might need in an emergency and also take steps to ensure your house is safe and secure while you are away.
Medical supplies 
If you have a child that needs regular medicines or suffers from allergies then you will already be aware of certain medical supplies that are essential for your journey. In addition to any regular prescriptions that you regularly carry around with you also think about packing some additional medical supplies that could come in useful.
Put together a basic medical kit back that includes items such as bandages, kid's medicine for headaches or a high temperature and maybe something that could deal with minor cuts or stings if they get into a scrape while you are away.
Protecting your property 
A property is far more vulnerable when it is empty for a period of time and the last thing that you want to do is spoil a great vacation by finding out there has been a problem while you were away or that you have been burgled.
Consider fitting a monitored home alarm supplied by a company like http://www.homesecuritysystems.com/ so that someone else is watching over your property and possessions while you are away having a good time.
Having an alarm system which is being remotely monitored 24 hours a day means that if there is any sign of an intruder or a fire alarm is activated, the alarm company can arrange for the emergency services to attend and check that everything is ok on your behalf.
Other steps to protect your property 
You can take steps to reduce the risk of an intruder targeting your property while you are away by making sure that you make the house appear to be occupied even when you are away.
Fit some timer devices to some lights around the house and maybe even plug in a radio to one so that there are lights and noise coming from the property at various intervals throughout the day.
Make sure that you cancel any deliveries for when you are away and also tidy up the garden and the garbage so that anyone checking your property out would not suspect from the outside appearance that you are away.
If you are going away in the winter months and the weather is particularly cold, you might want to consider turning off the water supply to the property while you are on vacation as burst pipes frequently seem to happen when the property is empty, meaning that a lot of damage can be caused because no one is there to stop the flow of water.
There are plenty of ways you can ensure that you are family are kept safe while you are traveling and if you make sure that you pack everything you need whilst also taking steps to protect the house too, then you should enjoy a trouble-free vacation and return to a property in the same state as you left it.
Edward Barrington is an insurance agent. He loves to share tips for how to avoid needing the use of insurance on family and consumer blogs.
It can sometimes be frightening these days that more crimes are being committed on a daily basis. People often worry about the safety of their family who are back at home. Because of this, various methods are utilized to increase the security of one's home such as employing the services of professional locksmiths. So why would you need a locksmith in the first place?
Locksmiths Are Better Than Plain Locks: There is nothing wrong in installing locks in your home. But then again, they are often sup-optimal when it comes to performance compared to locks crafted by professional locksmiths.
Locksmiths Know What They Are Doing: Locksmiths are trained professionals. They know how to identify a good lock from a bad lock. You are assured that they can deal with different kinds of locks without much trouble. Furthermore, they are not limited to installing locks inside the house but rather, they can also help you install locks in your private vehicles. They also are experts in reversing the process.
Locksmiths Are Extensively Trained For A House's Security: Locksmiths know how to properly and effectively install locks in your home. In addition, they can also impart you with the knowledge of how a particular lock works and how effective it is against attempts to breach them. You would be surprised that a complex lock is easily breached and analyzed by an NYC locksmith.
Your home-family's safety should always be your top priority and you can accomplish this by recognizing the capabilities of a reputable locksmith.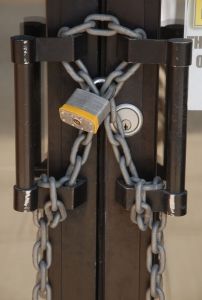 There has been an increase in the crime rate for the past few years. This only means that you need to make sure that you cover everything in terms of securing your home. Remember, securing your home is protecting your family. If you do not have a clue as to where to start improving your house's protection, you can start with the list below:
Change Locks: This is important especially if you had just recently moved. Make sure that you change the locks and the keys to your new home. You cannot afford keeping the same locks which may be accessible to the wrong people.
Set up an Alarm System: You can never go wrong in installing an alarm system at home. Sure, it can be frustrating to wake up in the middle of the night just to find out that a stray cat triggered the alarm. On the up-side, at least you know it works. Furthermore, it deters burglars from busting in your home. And in case burglars are brave enough to bother with your house, the alarm will alert the local authorities who can respond as soon as possible.
Hide The Wirings To Your Security System: One of the first things that burglars are likely to do is to disable your security system. By concealing the wires which connects to your security system, it lessens the chance of outsiders attempting to break through your home.
Never Leave Your Keys In The Mailbox: Do not ignore this warning. This also includes hiding the keys underneath the doormat. Burglars these days are knowledgeable enough to find what they are looking for. If you do not want to bring the keys to your house or you need to leave it for the other family members to have access to in case they return home earlier than you, better hide the keys in places where your family are the only ones who know about. Maybe you could try putting the keys as part of your dog's collar. That would at least leave burglars dumbfounded for the meantime.
Always prioritize your family's safety. If you need to spend extra money to put up that much-needed security alarm then do so. And do not just depend on your security system alone. Be vigilant as well with regard to the people around your neighborhood.
Structures catching fire in the most unexpected moments are commonplace these days particularly during hot months. And the importance of fire extinguishers cannot be stressed enough. Just imagine how difficult it was for people in the old days to douse the fire just using pails of water that they need to refill every now and then? Imagine how likely for structures in ages past to catch fire especially that most of them are often made out of flammable materials. Not to mention the fact that there were no firemen before and basically, a house burning down or being saved highly depended on the availability of water in a village or town, as well as the cooperation of the residents.
However, thanks to man's limitless innovation, they are able to find ways to protect homes from accidents such as these. Things does now always need to go as far as a huge portion of the structure burning down, people are not given the tools to extinguish the fire on the first sight of it. Having a fire extinguisher at your home gives you the ability to keep a fire from escalating to uncontrollable proportions. What you only need to do is be knowledgeable in utilizing it and maintaining it and basically, you can protect your home from any unexpected and unwanted fiery outbursts.
Just remember to follow these steps so that you can keep your fire extinguisher good for use anytime.
• Accessibility: One of the most important things that you should consider when you have a fire extinguisher at home is its location. Do you think it would be effective to put the fire extinguisher somewhere in your storeroom rather than somewhere where you can easily see it?
• Keep It Away From Obstructions: Would it be better for the fire extinguisher to not just be readily accessible but to be out in the open? Imagine how troublesome getting that big water dispenser out of the way just to get the fire extinguisher. It is more than likely that your kitchen would be caught in a huge flame by that time.
• Make Sure It's Adequately Charged: You would not want to be surprised to know that the fire extinguisher has no longer any charge on it especially if you need to douse that growing fire in the living room. Make sure to always check it if it has a charge. Surprises like the one above are not a pleasant one.
• Check for Instructions: if it is your first time handling one, it would be best to read the label on it. This works well especially if you are somewhere else and you are not sure if it is working properly.
If you do not have a fire extinguisher yet, you may want to check the fire extinguishers found at fire protection online. Fire extinguishers are your first line of defense against fire.
Securing your home should be one of your top priorities that is why home security cameras should be in your list. These days, burglary cases have been growing in numbers and you can never be too sure when it comes to home security. When picking the right home security to protect your family and home from unwanted intrusion, there are a number of things which you may want to consider including the best type of security cameras.
Survey Your Home: It is important that you check each side of your home. Try imagining yourself as a burglar who is planning to infiltrate the house. Does the window in the attic make a good entrance because it lacks security? Or does the backdoor leading to the kitchen prove a better entrance for you? If you think that these areas lack security then it would probably best to put alarms in them.
Find The Best Security Company: Once you have picked the places where you want to strengthen with security, it is time that you pick the company which can do the job for you. Speaking with insurance agents, security system advisers, or even the local police for reference is a good way to start.
Contact These Companies: Do not settle on calling one company. Make it a point that you get a price quote from them and at the same time, ask them if they could possibly do an inspection in your residence. Companies like CBS, Vivint, Frontpoint security are but a few you may want to get in touch.
Picking the Appropriate Security Measures. This highly depends on how your family's lifestyle is or how you would like your family to be secured. If you prefer loud alarms placed on the front door and your better half and kids are okay with it ringing on occasion whenever it gets touched then that should be fine. If your better half prefer the more discreet kind of alarm like just a long ring within your room's confines or just a light shining frantically within your room's confines then maybe it should work.
Extra 24hour Monitoring System: Some houses are equipped with a 24-hour monitoring system wherein professionals can monitor your house in a 24-hour period and if an attempt to rob your house is made, they get the signal and they can contact the local law enforcers to check out your place. Though it may come with an additional monthly fee, the added service is worth your money.
Remember that securing your family with the latest home security technology should be paramount especially these days wherein there is an increase in the crime rate.
Having home security these days is very important since a quiet life depends on it. Furthermore, you do not want any random strangers just trespassing into your place. In addition, you can risk your family's safety with mere simple tools that robbers can deactivate. Criminals these days are getting more and more persistent and smart and underestimating them is one of the things you should not do. In fact, criminals can easily break through a house even though it is in broad daylight and that is thanks to modern technology.
At the same time, it is also thanks to technology that security means have evolved from the traditional guard dog and lock to more complex and reliable ones. But it should not end with technology, you should also be vigilant. This also does not mean that you should discard the dog. Keep the dog; they will always be reliable when it comes to protecting your home from unwanted elements. Searching online for reputable locksmithing companies like nyc locksmith is also a good start.
Another reliable means of protection is installing protective and deterring devices inside your home. Alarms and CCTV NYC also works best. This will at least tell you how the neighborhood is during your absence or during those odd hours. At this present time, you should realize that security should be one of your top priorities.