Moving
now browsing by tag
Before moving to a new home or office, make sure that you have enought time and resources to do so. You should have atleast 8 weeks to prepare for it. While moving can also be done in a shorter period of time, there are other factors to consider to expedite the process.
Have a moving house checklist to help you through the process. This is available online from great relocation and moving services company like Bill Removalists.
Here are some of the things to consider before you decide on the moving date and contact moving contractors:
1. Estimate Cost
How much are you willing to spend for the relocation? Do you have alloted budget for it? These are just some of the questions you have to ask yourselves. When we say cost, we are not just referring to the rate of your new apartment but the amount you are going to spend during the moving process. List all the possible expenses such as fee for moving services, home repair if necessary, and more.
2. Work Schedule
If you or any of the family member is working, moving might have an impact to their current job. Make sure to consider everyone and take note of their schedule. There might also be upcoming important events so always refer to your calendar and plan everthing caarefully.
3. Movers Availability
Choose a relocation and moving services company that can cover your needs. These professionals can help you move safely and on schedule. They can help you with your furniture and appliances. They have padding, wraps and moving boxes to handle them with care. They can help you dismantle and reassemble your possessions.
It's easier to figure out the best moving date if you will plan ahead. You can also talk to moving professionals so that they can advise you and help you with your concerns.
When relocating a moving company to transfer your company to a new location, it is important to take into consideration several factors. The reputation of the movers is one followed by the price and timeline followed. Research the moving company to know if they are a good match for your needs.
Check with your local Better Business Bureau or other agency that tracks complains of businesses. Stay away from any moving company with negative reports because they are not worth your time or money. Professional movers will have outstanding reports and flawless reputation. This is the moving company you need to use because you only want the best when it comes to relocating your business.
If possible, talk to the mover's prior customers. The customers will tell the real story about the abilities of the movers. Ask questions regarding the condition of the goods shipped when arrived at the new location, the moving company's ability to stick to the time frame set for the moving, and any other questions that you feel are important.
Review at least two moving companies. Find out the costs for the moving, the costs for delivering heavy objects inside the new location,  possible delays that may happen, refunds offered if not satisfied with service, and if you need to reserve the time for moving in advance. Plan out the move with all possible factors prior to the time so you can rest easy your company will be moved in the timeframe you need and want.
Before the move, consider the location of the new building. Is it located in any crime area? Is it located in an area that offers good parking or transit for your employees? Is it located in a location where your customers or clients can reach easily? How is the security of the building during off hours and business hours?
The safety and security of the new building is very important to the employees, clients, and business data and information. You do not want to lose the security offered to the employees and clients to save money for operating the business. You need customers to make your business function just as you need employees that feel safe for business operations.
Talk to the local law authorities about the crime rate and any crime reports of the area. This will give you a good idea of the crime associated with the area. Find out if the building has security alarms or security devices to protect the building and employees. The cost is worth the security offered so make the point of knowing the security of the new location.
The visibility of the building is important. Your clients needs to see the building if they are going to come there for business. A hidden building or one that is hard to find from a major street loses business and is open to the risks of crime. Is the new building close to another business? This is important to help the flow of traffic to you business. Make sure you have enough parking to allow for the flow of traffic and customers expected to frequent the business.
Make the new location well worth the move when you research the best moving company, location of the new building is easy to access, and the new building is safe and secure for employees and customers.
This is a guest post provided on behalf of- http://www.officeman.co.uk/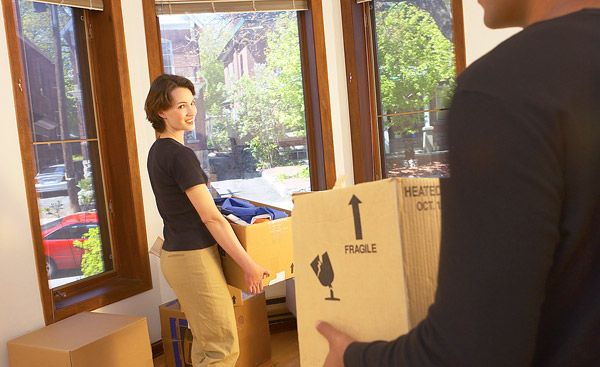 People have been moving from one place to another since ages past and whatever the reason, moving to a different place can be quite stressful. Imagine, you have to pack everything that you need to bring to your new home. Furthermore, if your new home is quite far away, then it can be an exhausting experience. However, you can make the experience less stressful by following the advises below:
Write A List Of What To Bring: This is like similar to doing the grocery. It is important that you take note of the various items that you will be bringing along with you as well as their numbers and where you will be putting them. Think of it as a checklist. This will at least help you find the items you are looking for especially when it is time to unpack them from the boxes.
Have Lots Of Stocks: Moving requires plenty of boxes. You will sometimes be surprised that having just ten boxes is not even enough to carry your things. One of the best ways to handle this is to purchase boxes from a moving company because some of them may offer you a refund for unused boxes. Perhaps, that moving company NYC is a good place to start since they are offering a lot of box and discount for bulk orders.
Take Advantage Of Wardrobe Boxes: The good thing about these tall boxes is that they can accommodate light-weight items which consume too much space like blankets, pillows, comforters and even clothing. Makes sure that you have an idea of how big your stuff are before you get in touch with a moving company to buy some big boxes.
Make Sure Everything Is Organized Before You Move: One of the worst things you could do is by being disorganized. Not only will the experience of moving become more stressful but rather, it will make it more difficult for you to track down where items are and where to put them. As much as possible, keep things in order. You could, for example, put your shoes, belts and or your sweaters inside some sturdy shopping bags. You can also pack hanging items tightly so that they will not move as much when you are moving.
There is no doubt that moving is not a walk in the park but the good news is that you can make the experience less difficult by following the above tips.
Image source: sheknows.com