Home Improvement Tips
now browsing by tag
The home you live in should be safe for both you and the environment. Unfortunately, a lot of the homes built today are the exact opposite. They emit harmful toxins into the air that damage the ozone and the health of its occupants. Over time, it can lead to all sorts of health problems, including infertility and respiratory problems. If you're on the market for a house or want to make improvements to your home, then you should have eco-friendliness in mind. The following are some of the different ways you can enhance your home into a green one.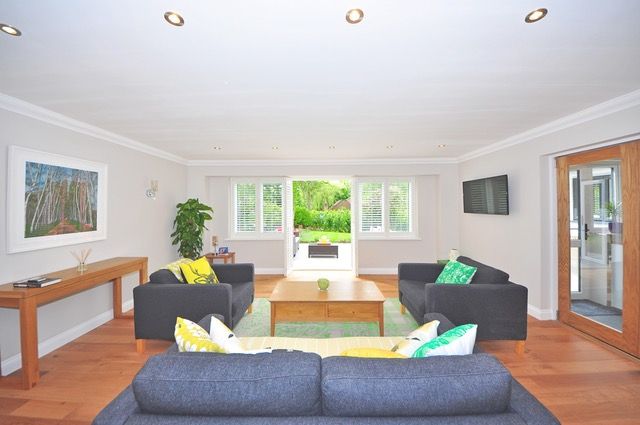 Build with Natural Materials
The materials your home is built with can be made with impure materials that are filled with contaminants like formaldehyde and lead. You need to make conscious buying decisions when renovating the walls and floors in your home. Everything from the plywood to the paint should be eco-friendly and safe for humans and pets. There are a variety of companies that have products that are designed for this very purpose.
Choose Hardwood Over Carpet
Many of the carpets used in homes today are contaminated with chemicals like formaldehyde and artificial dyes. These toxins are released into the air of your home, making it toxic to breathe. Natural hardwood floors like oak, bamboo and cedar can be used for the floors instead. These should be finished with natural products, otherwise your efforts are pointless. Wooden floors can be placed throughout the home, including the living areas, kitchen, bathrooms and bedrooms.
Have Plants Throughout the Home
Air purifiers are great, but there's nothing like having natural air purifiers in your home. Plants act as filters for airborne particles and toxins in the air. Unlike with mechanical air purifiers, also improve the air, providing more oxygen and other benefits. Certain plants can help keep bugs away, improve sleep and help with asthma. Some of the plants you want to consider include parlor palm, spider plant, snake plant and peace lily, to name a few. Place your plants throughout your home, in the bathrooms, kitchen, bedrooms and living areas. Make sure they get plenty of light and water.
Choose Non-Lead Paint
If you're going to redo the paint inside and outside of your home, then make sure it doesn't contain lead. This is especially important if you have young children. Chipped paint can be consumed by little crawlers, which puts them at risk of poisoning. Lead is known to cause all sorts of adverse affects, so it should be avoided at all costs. You can opt for green paints made by eco-friendly companies. There are more and more color varieties becoming available, so your options aren't limited.
Add More Windows to Your Home
The winter months can get very cold, depending on where you live in the nation. You can offset your power bill in the cooler months by installing more windows, so that more sunlight can get in and warm up your home. This also adds plenty of natural lighting, which means less lights that need to be operated during the daytime. If you have a smart thermostat, you can use your Microsoft computer or smartphone to create settings so that it doesn't turn on until right before you come home.
Your furniture is as much an investment as your own house is. It is an extension of your home, and is used every single day and therefore prone to wear and tear. So it is only proper that you give them the proper care they deserve.
But what can one do to help prolong your furniture's durability and overall condition to help keep your furniture looking good as new and last for a long time?
Use Wraps and / or Pads when moving furniture in or out
One easy way of dinging and ruining your furniture is when you move them in our out of your home. It can get caught on walls, doors, and other obstructions and can cause marks and scratches on the wood or leather. For small furniture, use industrial wraps (much like the cling wrap you have in your kitchen). For bigger furniture use pads similar to those you see in the gym to wrap your furniture or the surfaces where you'll be passing furniture through.
Clean your furniture frequently 
No need to use cleansers or cleaning sprays. Just wipe with a dry rag or dust off your furniture once or twice a week, or more frequently if you can. Once in a while when scuff marks appear or when there's accidental spillage, you can use a mild cleanser or just a plain wet rag or towel to wipe off, then dry off with a dry towel.
Use furniture covers 
Especially outdoors, it is wise to invest in special patio furniture covers to keep your lawn furniture protected from the heat, rain, and pets. Most patio furniture covers come with garters that ensure a perfect and snug fit to avoid getting blown off by the wind. Think of them as insurance for your outdoors furniture.
A lot of people are excited about the prospect of DIY projects, but are they really worth the extra effort? Can you afford the costly materials from the local hardware store? And are you sure that online tutorial really taught you everything you need to know? If you're adamant about completing the DIY renovation project yourself, here are five questions to think about before going ahead from click here .
Is It Safe?
The most important factor in DIY projects is safety. Is there a chance you or someone in your family can get hurt? If so, then it's probably worth calling in the professionals like Allstate Roofing. If you're not comfortable climbing ladders or safely operating a chainsaw, call in a contractor who has the skills to safely do the project for you.
Are You Prepared For Unexpected Costs?
Many projects don't go according to plan the first time round. Because of this, it's important you are prepared for unexpected costs in case something goes wrong and you need to pay for urgent repairs. Hidden costs can drastically increase your projects budget, and may even cause a stop to it altogether. If you don't have an adequate fund in place, you should consider hiring a contractors who will be able to take care of unexpected costs should they arise.
Do You Really Have Enough Time?
You might think that DIY projects are only good for saving money, but do you realise how long it is going to take to complete? It is often the case where 'real life' gets in the way – such as family outings, football practice, and long afternoons at work. Your time is valuable to you, so it is important to spend it wisely. If you believe your project will interfere with your work or social life, then perhaps it's necessary to call in an outside contractor to do the
job for you.
Do You Need Any Licenses Or Permits?
A lot of DIY renovation projects require specific permits and licenses, especially those that involve wiring and digging. Before you start your project, you need to make sure you call a professional who can do these jobs for you, as getting permits can often be a hassle, and re-wiring can be dangerous if you don't have the proper education and experience.
Do You Have The Right Tools?
Most people believe they can complete their DIY renovation projects with the tools in their shed, but most of the time extra machinery is required for specific tasks. A lot of the time these will incur extra costs that will quickly add up and may go over budget. It may be cheaper to pay a flat fee to a contractor who already has the necessary equipment and skills to do the job for you.
Remember – if you're venturing out into the DIY world, it is important to remember to use the right equipment and stay safe at all times!
Keeping things at home in order can take so much time especially if you do not have an idea where to start or how to go about them. The tips below will help you get a good head start in organizing the household.
Everyone Should Contribute: Nothing is harder than trying to do things at home on your own. Make sure that the other members of the family also help when it comes to arranging stuff at home. It is also important that the family members are responsible when it comes to their mess.
Use Wastebaskets: Every room should have a waste basket. Furthermore, the kitchen area should have three different waste baskets accommodating the three kinds of trash; recyclable, biodegradable and non-biodegradable. Keep unused waste baskets under each other where it can easily be found by any family member when they need one or after you throw a waste basket away.
Pin Messages On The Refrigerator: This will help get the message among each family member in case you do not get to talk to one another due to time constraints. Of course, personally interacting with the other family members is still important but just in case you need to leave an important message, the refrigerator is a good place to pin the message.
Use Toy Baskets: Toy baskets are important in cases wherein you need to keep the toys you pick up in random places of the house conveniently. For outdoor toys, you can buy a weatherproof, bench-style storage box. This will make it easier for you to keep the toys from being left scattered around the household.
It can be hard to find the time to totally keep the house organized but it does not mean that it is impossible. If the family members help each other then it can be accomplished.
Image credit: sxc.hu/profile/zomb_kille
Building your dream house not only takes a lot of money and effort. The time devoted into the planning through the construction and completion usually takes months and some even years. The same can be said for renovations which are done when improvement wants to be seen or damaged in some parts of the house needs to be repaired. It is not a mystery as to why people spend so much time thinking through matters about their house as one's house serves as a representation of its owner; from its outside view to its interior design, to the arrangement of the furniture and even up to its flooring, everything is carefully considered.
 As innovations in house building and renovation continue to appear, more and more options on materials are being available in the market. Manufacturers have provided consumers with a variety of products which they claim to be durable, sophisticated, and unique. One area that has significantly shown development is in the floor/tile covering industry. Nowadays, tiles of different shapes, sizes, colors and designs are available. Some of these even try to imitate the natural materials which have been used for floor covering for the past years such as granite, stone, timber and slate. Even so, such products remain what they are—imitations. Though the appearance might appear to be almost similar at first, striking difference could actually be pointed out between natural and synthetic floor coverings in the long run.
First and foremost, natural materials are unique to each other even if, for example, both are granite. These materials have different color, texture and qualities. Even though there are products replicating these, it is clearly impossible to replicate the different hues and textures and sizes. Another good thing in choosing natural materials for floor covering is that it will achieve the purpose of expressing a house's individuality.
Though it may be tricky to create a harmonious-looking interior through these, when done by an expert, it will definitely upgrade the house to a new level of class and sophistication. Moreover, these materials boast durability and strength and more resistance to damage even for a long time especially if properly maintained, as oppose to synthetic ones which not only has a very limited lifespan but raise environmental concerns as well due to the chemicals used in making it. Lastly, natural materials also exude the charm of imperfection.
Due to its varying shapes, sizes, texture and hues, it gives a home a more natural feel and style. Though there may be some drawbacks in the usage of natural materials such as it is more expensive and harder to maintain, it will definitely set apart the house from the others who use synthetic ones that would definitely not much different from other houses in a neighborhood. It would not even be surprising if more than half in ten houses has the same synthetic floor coverings installed in their houses so choosing stone, granite, slate, bamboo or timber would set apart one's house from the usual.  When looking for the best bamboo flooring, consider the price and quality.
As such, in building one's house, every detail is important in order to achieve the look that would not only look good but would also give it the homey feel it should possess. Achieving the style, design and output a person likes take a considerable amount of time, money and decision-making but it is all worth it when the warmth a house should possess exists.
Now that spring has sprung, everyone will be looking for ways and means of introducing cheerful colours and the refreshing spirit of the outdoors into their homes. The most basic and supremely effective way to achieve this is to decorate the main spaces as well as all the nooks and crannies with an array of gorgeously coloured flowers, either straight from the garden or else from a local supplier. Interior design is all about maximising possibilities and exploring new and exciting concepts to heighten one's sense of well-being, harmonising functionality and ambience, and essentially liberating an interior space's soul, its life force. At this time of the year, flowers are the ideal medium for doing precisely this.
Wildflower groupings
Although it's true that large floral arrangements and designs can create amazing focal points in any room, the quickest, simplest and easiest way of enlivening a living space through the use of colour is to use smaller blooms arranged in tasteful groupings. As a typical example, take a small bouquet of anemones with bold hues of orange, red and yellow, and set it on a plain wooden table to instantly transform the room with a rustic simplicity and striking contrast that would please Vincent van Gogh.
Alternatively, create groupings of wildflowers and heavenly scented lilac in small glass jars and place them along the windowsills for a touch of countryside cheerfulness and picture-postcard charm. Use a selection of vases of different sizes and designs, but make sure you use the same colour to maximise the impact of the varied blooms. Carefully selected vintage vases can also often bring out the full beauty of flowers.
Containers
A bouquet of tulips at this time of year is always guaranteed to transform a room and brighten it up, and daffodils placed in a glass jar on a windowsill that receives direct sunlight is enough to thrill the Romantic poet in any of us, with the natural light thoroughly bringing out the full brilliance of the flowers. Mason jars and glasses are also useful for keeping small branches in, or for single flowers. This is probably the easiest way of introducing vibrant accent colours to a living space, either positioning them along windowsills or on shelving in the kitchen or study.
Colour combinations
For a sophisticated colour palette that doesn't hit you straight in the face but rather heightens the spring mood through the use of carefully selected garden elements, try combining purple, white and pastel pink blooms for a more subdued but intimate and subtle effect. Orchids are very good for this, although they tend to require extra care in terms of watering, placement and feeding. For a more soothing effect, concentrate on flowers that have predominantly softer colours such as white and lilac, as even when used in relatively small doses these can transform and soften the ambience of a room.
You could also consider taking a course in flower arrangement, which the ultra-aesthetic Japanese masters of the art recognised long ago as an effective means of bringing out the living spirit of a place in a way that purely inanimate accessories usually fail to accomplish.
Author Bio:
David Bell is a freelance writer and blogs about travel, interior design, online marketing, telecoms and small business solutions. Follow him on Twitter @DavidBellWriter
A dull and barren lawn could somehow influence your mood for the day. Just imagine waking up every morning and you'd be welcomed by such an unpleasing sight. Surely, you would feel lifeless as well and you might bring it at work. Seeing greens along with your newly installed driveway gravel is a great idea.
If you're worried about not having the magical green thumb, then you can make use the majority of your humongous space into a permeable paving and just place some full grown flower beds on the sides or perhaps bushes.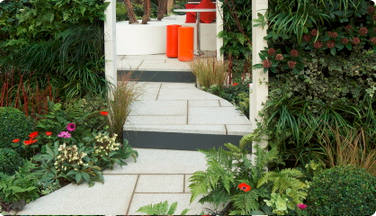 See to it that you already know the things that you want to see in your front and back yard. Each home owner has their own preferences when it comes to garden landscaping and paving. Others would want to walk along fresh and well trimmed grasses while some would want the hard and solid ones placing all the plants on the sides.
You should also familiarize the wind patterns in your place as well as the angle of the rays of the sun. You might want to transform your lawn into a grilling space wherein you host barbeque parties or similar events. If the wind blows hard in that area, then it isn't a perfect place to grill anything. The rays of the sun would also matter. Make sure that your fully transformed mini-nature-park lawn won't be receiving the longest sun exposure until it sets because it won't be suited in the afternoon wherein people would most likely relax and sit outside. Nobody would want to face the sun the entire and get sun burned.
If you don't how to start the beautification of your yard, start looking at home magazines or perhaps search the internet on unique garden landscapes and from there you will get an idea on how you would like your yard to look like. You consult a professional landscaper or watch do-it-yourself videos if you really want to do it on your own.
Nowadays our society as a whole is becoming more and more conscious of the importance of sustainability and environmental responsibility. While there are many steps we can take in our daily lives to help reduce our carbon footprint, building an eco-friendly home is one of the major approaches we can use to reduce our demand on global resources throughout our daily lives.
Here are a few basic tips for building a more eco-friendly home.
Use Recycled and Renewable Materials
During planning and construction, give some thought to the materials you're going to use for the build and consider their impact on the earth's resources. In order to make your build as environmentally friendly as possible you should aim to use materials that are either recycled or come from a renewable source. Using salvaged bricks, steel or timber is a cheaper and more eco-friendly approach to sourcing construction materials.
Bamboo and cork are great examples of renewable construction materials and are highly cost-effective. Bamboo is resistant to rot, fire, insects and water and can be harvested every 5-7 years, compared with wood from trees that take anywhere from 15-100 years to grow. Cork is a great material for flooring, it's comfortable, durable, non toxic, resistant to fire and insects, insulates your home and the cork tree actually needs to have its bark harvested regularly or the tree will perish.
Source Materials Locally
To reduce the carbon footprint of your build, try to source your building resources as locally as possible. This goes for both construction material and labour, of course. This will help boost the local economy and reduce the resources required to transport the materials to the build site. Reducing transportation distances, costs and man hours will also help you to keep costs down.
Solar Power
Solar power is an ideal approach to creating an eco-friendly home and reducing both the carbon footprint of your household and the cost of keeping your home running throughout the year. Solar power helps create an energy efficient house, keeping your electricity bills lower and your demand on energy resources minimal.
An increasing number of houses are installing solar power for heating and electricity, including hot water systems.
Cooling and Heating
Keeping the home cool in summer and warm in winter contributes to a large part of any household's energy usage. By taking measures to reduce the dependency to electricity for temperature regulation in the home, you can reduce your carbon footprint as well as your electricity bills.
Insulation in the ceiling and walls should be present in every household and helps to regulate the inside temperature of the house. For two storey house plans you should also insulate between levels. Double glazed windows and doors are also highly effective in doing this. Even if you do choose to use air conditioning, insulation and double glazing will both help to greatly reduce the power needed to maintain the desired temperature inside the home.
Planting shade trees around the home is a simple and natural way to shade your home and windows from the sun, keeping the summer heat at a more manageable level.
You might even like to investigate alternative low-energy methods of heating during winter. For example, some homes are equipped with under-floor or in-wall heating that uses hot water, heated and circulated by systems that run off the heat of the home's fire place.
Lighting
Most Australian building codes now require the use of fluorescent or LED lighting to reduce household energy consumption. When building your home, try to take advantage of the energy efficiency and cost effectiveness of LED lighting. You should only need to change an LED bulb every 25 years or so, and they consume a fraction of the energy required to power a halogen light.
If you've ticked all these boxes then you're already well on your way to an eco-friendly household. There are plenty more ways to reduce your impact on the earth so keep researching and take any steps you can to save energy
Any professional plumber will tell you that hard water can cause major problems with plumbing lines, appliances, and plumbing fixtures. Hard water is loaded with minerals and the calcium and magnesium that it contains leaves your water smelling like rotten eggs and your tubs and sinks stained with rust. It also causes a major build-up of minerals. Even though hard water affects your plumbing, it will not be harmful to your health even though it seems bad. If hard water is present, then your plumbing could be severely damaged by mineral deposits that form. These deposits are also called lime deposits, and they produce a coating that blocks your drains and pipes. Water flow will be incredibly restricted by these deposits, and if you let the problem go too long, then you could end up having to replace all of the lines in your home.
The Effects of Hard Water on Appliances
The bad thing about the minerals in hard water is that they can accumulate in any appliances that use water, such as dishwashers, washing machines, refrigerators that have ice makers, hot water dispensers, kettles, and even hot water heaters. Sometimes it is hard to tell that your appliance is being harmed until it is so bad that you have to have repairs made. Hard water can seriously damage your appliances, because it clogs them up. Even though hard water is not associated with major medical problems, it could possibly intensify skin conditions. Most of these problems can be prevented if you install a water softener, but issues can still occur sometimes even if you have a water softener.
Learning How to Tell If You Have Hard Water
If your water is extremely hard, then you will need to call a professional plumber to try to come up with a solution to fix the problem. You will know that it is hard simply by looking at whether or not there is rust present in your sink or tub. You can also tell by looking at your laundry. When you wash a load of clothes, minerals will react with the detergent that you use, and this will create a sticky residue. This residue will get on the fabric of your clothing, and it will cause the fabric to fade, to have an orange tint from the rust, and it will also cause the fabric to be scratchy. A plumber will be able to help.
If you have any further questions about hard or soft water, or any other plumbing related issue, please contact one of our friendly team. They would be more than happy to help. You can find us at: www.ppbs.co.uk
The bathroom is perhaps one of those rooms in your house which you will likely frequent in a day. For this reason, it is important that you keep it clean and renovate it as necessary. If you do not have any idea how or where to start, just check the following tips below:
Make A List: It is important that you make a list of what you need to do in your bathroom and what you want to do in your bathroom. Just putting whatever without knowing why you would do it in the first place and just because you feel like it can get your bathroom disorganized rather than being able to organize it. Some of the things which you may want to consider before putting your wants on the list would be a decent-sized bath along with a lot of space for storage while under floor heating and or rain shower on the other hand can be the last on your list.
Space: Always consider space when you are planning to renovate your bathroom. What is important is that your bathroom has ample space and you can easily move around in it. You should make it a point to take advantage of every area of the bathroom and utilize them in a form of storage.
Storage: If you are looking for Vanity suites, look for one which has a contemporary storage system which comes along with it. The main objective of such equipment is to make toiletries more accessible as well as any other appliances which you need in the bathroom. Wire racks mounted inside the doors, rubbish bins, towel racks are but a few things which you should consider especially if you are trying to setup a cheap bathroom suite.
Do not take your bathroom for granted and as much as possible, find time to take care of it and to renovate it once in a while.
Trade Plumbing is an online plumbing and heating retailer for all your home improvement needs especially when it comes to  premium bathroom suites, heated tower rails, shower enclosures and more. Find everything you need and get them in cheap prices.