November, 2012
now browsing by month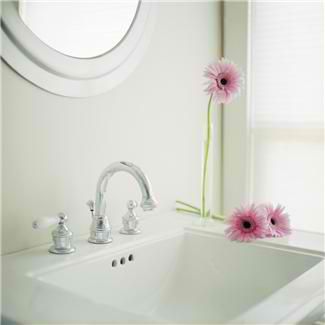 It may be time to renovate that old, run down bathroom that you have been avoiding for some time. Renovations in bathrooms or even anywhere in the home can be quite costly. You don't necessarily have to generate a state of the art facility to create that homely feeling. However you must be satisfied with the improvements that are completed in your home. We've provided some affordable renovation ideas that can be completed on a tight budget.
Repair damage
There are common ways in which to remodel or renovate your bathroom. You can repair or re-use your current amenities by resurfacing, painting or altering the amenities. This can be a timely, yet effective way to renovate your bathroom on a tight budget. Cracks or damaged surfaces are easily repaired and can look as good as new if executed effectively. Visit your local hardware store for the correct supplies. If you need to replace specific sections such as shower screens, source acceptable resolutions such as Down Under Screens.
Purchase second hand facilities
It may be frowned upon by some, however purchasing second hand units or facilities can be the most affordable way to renovate your bathroom. Depending on what you are specifically after to replace, these items can be purchased at second hand or renovation stores. Once you have purchased your second hand unit, you can also repair or remodel it to suit your individual taste.
Pre-fabricated units
If you are more interested in the new, modern appearance, pre-fabricated units are generally more affordable. They are constructed in the factory and delivered to retailers or your home. They tend to be designed out of fiberglass or acrylic and come in a variety of designs, shapes, colours and textures that can be chosen from to suit your unique taste. The entire unit may feature a shower, tub and basin. This may be a more affordable idea opposed to purchasing units individually.
Don't hire professionals
Depending on your own experience or skill level, it will be by far cheaper to complete the renovation yourself. Clearly the hiring of professionals will encounter a huge labour fee. If you have some past experience or you are a very eager and fast learner, try taking on the task yourself. If you have family or friends that are willing to help, take advantage as they may bring some experience also.
Research
Be sure to do your research prior to making any adjustments or modifications to your bathroom. You can conduct your research online or gain advice from professionals or friends to help provide some indication of what lies ahead. Research will also help you develop ideas on what designs or styles you like and the cost involved.
These ideas are a mere indication of ways to renovate your bathroom on a tight budget. Be sure to seek advice and explore your options prior making any modifications as prices and selection will vary depending your interests and location.
If your outdoor space is nothing more than a tiny fenced backyard in an inner city, it can still look as beautiful as that of a larger unit. Even though the small space makes it easier to decorate, there may be some challenges if you want to place a swimming pool or a jungle gym for the children in the backyard.
Landscaping Ideas for a Small Backyard
When it comes to landscaping in a small space, there are several options. Depending on the amount of space you are dealing with, you could plant a small flower or vegetable garden. If there is not enough space, you can make container gardens. Container gardens are very easy to start and quite easy to care for. Simply fill plant boxes or large flower pots with potting soil. You can start the gardens with seeds, or for a faster result, you can pot young plants which have already started to grow into the planters. If you intend to mix different types of plants in one pot or plant box, be sure that these plants are compatible with each other.
How to Use Pavers in a Grassy Backyard
For an all-grass backyard, use large pavers to give you and your guests a place to walk without disturbing the grass. Place them in a straight pattern from the back door to the end of the backyard. Concrete pavers, brick, flagstone, or other types of stone can be used. You can also install enough to actually create a sidewalk between both sides of the grass. If you are using this method, be sure to grout the seams between the stones or bricks to give it a finished look.
Water Fountains as Landscaping for a Small Backyard
Water fountains come in many styles and sizes. No matter how small your backyard is, there is a style that will fit in with your landscaping. If your backyard is extremely tiny, there are fountains that can be placed on the wall. Water fountains add a touch of beauty and romance to your entire backyard setting.
Furnishings for Your Small Backyard
Even the tiniest backyards have enough space to add a comfortable seating area. You can place a small bistro set in a cozy corner of your backyard. If you have an outdoor deck, you can probably add even more seating. A glider or swing set will add more seating to the space, if you have enough room for them. A small gazebo or large umbrella will help keep you and your guests dry on rainy days.
The Small Backyard on a Hill
If you have a house on a hill, and you may have special challenges when it comes to decorating your backyard. Do not worry, there is a solution for that, too. A mixture of succulents, and hardy tropical plants that can withstand colder winter temperatures will make lovely clusters. Make several clusters going down the slope of your backyard. Place gravel or colored stones between the clusters for a stunning effect.
Written by Lachlan G.
Lachlan runs a construction business for his dad. Being a newcomer in the industry Lachlan has quickly acquired some great product knowledge, ranging from choosing the right steel suppliers, mild steel processing, to the latest green technology for building eco homes. Lachlan loves DIY and spends most of his weekend in his workshop.
Once upon a time, selecting power tools was easy. If you needed a drill, you bought a drill; if you needed a saw, you bought a circular saw. But, it's no longer that way. Manufacturers are constantly coming out with new toys to whet our appetite and get us to buy their wares. While there are a few people around who have a virtually unlimited tool budget, those people are pretty rare. For the rest of us, we want to get the most out of the tools that we can afford to buy. So, we're looking for multi-purpose tools which will get a wide variety of jobs done, with the least amount of fuss.
Drills, by their various names are one of those areas where manufacturers keep coming up with new ideas. Fourty years ago, all you could buy was a drill; nowadays, we've got to pick between drill/drivers, hammer drills, and impact drivers, along with other choices. The trick is to understanding the difference between these tools, and what they're really designed to do.
Drill/Driver
A drill/driver is a modification of a drill. By adding a clutch to a standard electric drill, it provides the capability of driving screws into wood, with control over how deep the head is going to sink before the tool stops turning. So, the drill/driver is actually a combination of two tools, a drill and a screw gun. That makes it rather versatile, and for most of us, it eliminates the need for a screw gun as well.
Even within the ranks of drill/drivers, there are a lot to choose from. Lithium-Ion battery technology has made these tools even more versatile, as the batteries hold a bigger charge and can be recharged much more rapidly. The best of these are the 18 volt units, which carry considerably more power than the 12 volt units they have pretty much replaced.
These come in a wide variety of models and prices, such as the Bosch DDS181-01 or DDH181-01, both of which are high power units. Or, if you're looking for a bargain, you might try the Black & Decker LDX220SB. I've got one of these and I love it.
Hammer Drill
I guess we could call hammer drills the next step up from a drill/driver. The hammer part consists of a couple of gears and a weight which creates a hammering action when it is activated. This action is switchable, so the drill can be used without the hammer action as well.
Hammer drills are necessary if one is trying to drill into masonry of any sort. If you look at a masonry drill bit, they have a small chisel on the end. Unlike drilling into wood or metal, drilling into masonry isn't a cutting action, but rather a breaking action. The thousands of impacts per minute on that rotating chisel cause it to bust a hole through the masonry.
Cordless hammer drills are also designed with a clutch, just like drill/drivers. So, they can actually replace the drill/driver, making your standard drill into a three purpose tool. However, you will pay more for it. If you want the most powerful one around, take a look at the Milwaukee 2611-24, which has 750 in/lbs of torque.
Impact Driver
Impact drivers are a modification of the idea of a mechanic's impact wrench; combining that action with that of a drill, making a combination tool once again. Instead of the longitudinal hammering action that a hammer drill provides, the impact driver is providing a rotational impact. This provides much more effective torque for driving or loosening fasteners.
If you've ever put a ratchet onto a stubborn bolt, then hammered on the side of the ratchet, trying to break the bolt free, you've made your own manual impact driver. The difference here is that the driver is making over 1,000 impacts a minute, much more than you can even dream of doing. That makes these tools great for times when high power is needed. The DeWalt DC827KL for example provides 1,330 in/lbs of torque; that's equivalent to over 100 ft/lbs.
When you've got to run lag screws into beams, then impact drivers are just what you need. They're also excellent when you're doing projects like driving 3" screws into a deck. However, they don't have a drill chuck, instead having a 1/4" drive hex collet. So, they're not really good for drilling. Yes, you can get drill bits with a hex shank, but they're more expensive and tend to break.
Corded or Cordless?
All three of these types of tools come in both corded and cordless versions, although the cordless ones are rapidly outpacing the corded ones. Cordless is much more convenient and much more portable. It used to be that corded tools were much more powerful than cordless ones, but with the newer 18 volt technology, they've pretty much closed up the power gap.
The other problem that used to make cordless inconvenient was charge time. Nickel-cadmium rechargeable batteries needed at least 3-1/2 hours to charge. You didn't want to partially charge them either, as the battery had a "memory" and might never fully charge again once you did that. With Lithium-Ion, you can fast charge a battery in 30 minutes or less. Makita has a fast charger which will bring the battery up to a good charge in only 15 minutes. You can find that included with their BTD142HW impact driver.
Which One to Choose?
Picking the right tool for your toolbox depends more on how you are going to use it, than anything else. For most people, a drill/driver is a great all-around tool. Unless you have need of occasionally drilling into masonry, there's really no reason to buy a hammer drill, as you'd never use it's extra capability.
On the other hand, having an impact driver might be something you want to consider. It can't really replace your drill for everyday tasks, but if you need something that gives you power, it's handy to have. You can even use it for working on your car, something that the drill/driver won't help you out with. So, if I was to buy any two, it would probably be a drill/driver and an impact driver. But, if I could only buy one, it would be a drill/driver.
Author Bio: Ryan Hill is a review expert especially when it comes to explaining the difference between certain power tools.  Visit his website to find more about impact driver reviews and other power tool reviews.