June, 2012
now browsing by month
The bathroom is an important room in any home – it's where we spend a lot of time preening and cleaning ourselves, it can even be when many of us come up with our best ideas or sing without any trepidation in the shower.
Which is why when we have any plumbing problems in this most integral of rooms it really throws a spanner in the works. It's often the toilet that's the problem, but equally as annoying is a blocked sink or bath that doesn't want to drain.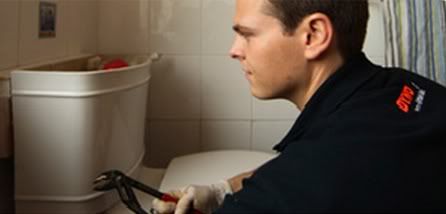 It's easy to fret about these bathroom plumbing problems but there's really no need, because they are often easily sorted and indeed avoided if you know just three simple tips.
If your bathroom is experiencing any of these issues then the first thing you must do is sort these out either yourself (equipped with a plunger or drain cleaner) or call in a professional to do the job. But the best way to avoid blocked drains in the future is to abide by some easy preventative steps that any homeowner can follow.
First thing's first, make sure any products that should not be going down the toilet end up in a bin and not clogged in your drains. Facial tissues or wipes should not be flushed and it's the same for heavy-duty paper towels or sanitary products. It's easy to just chuck this stuff in the bowl and flush but if you want to keep your bathroom in good working order then bin it.
Secondly, simply use a stopper to block your plughole from any unwanted hair or dirt and you'll notice a difference straight away. Finally, clean your taps, showerhead and sinks regularly to avoid any build-up of minerals and your bathroom will be problem-free for some time to come.
Securing your home should be one of your top priorities that is why home security cameras should be in your list. These days, burglary cases have been growing in numbers and you can never be too sure when it comes to home security. When picking the right home security to protect your family and home from unwanted intrusion, there are a number of things which you may want to consider including the best type of security cameras.
Survey Your Home: It is important that you check each side of your home. Try imagining yourself as a burglar who is planning to infiltrate the house. Does the window in the attic make a good entrance because it lacks security? Or does the backdoor leading to the kitchen prove a better entrance for you? If you think that these areas lack security then it would probably best to put alarms in them.
Find The Best Security Company: Once you have picked the places where you want to strengthen with security, it is time that you pick the company which can do the job for you. Speaking with insurance agents, security system advisers, or even the local police for reference is a good way to start.
Contact These Companies: Do not settle on calling one company. Make it a point that you get a price quote from them and at the same time, ask them if they could possibly do an inspection in your residence. Companies like CBS, Vivint, Frontpoint security are but a few you may want to get in touch.
Picking the Appropriate Security Measures. This highly depends on how your family's lifestyle is or how you would like your family to be secured. If you prefer loud alarms placed on the front door and your better half and kids are okay with it ringing on occasion whenever it gets touched then that should be fine. If your better half prefer the more discreet kind of alarm like just a long ring within your room's confines or just a light shining frantically within your room's confines then maybe it should work.
Extra 24hour Monitoring System: Some houses are equipped with a 24-hour monitoring system wherein professionals can monitor your house in a 24-hour period and if an attempt to rob your house is made, they get the signal and they can contact the local law enforcers to check out your place. Though it may come with an additional monthly fee, the added service is worth your money.
Remember that securing your family with the latest home security technology should be paramount especially these days wherein there is an increase in the crime rate.